WHO WE ARE
Derse is a complete face-to-face marketing agency staffed, equipped, and dedicated to ensuring a more purposeful approach to building brand experiences. We specialize in the planning and production of exhibits, events, and marketing environments. Derse has a unique range of integrated capabilities to help our clients tell their brand stories as engagingly as possible.
We approach each project as unique in size and scope and we can effectively manage any size program. What sets us apart is that we never lose sight of why our customers invest in face-to-face marketing: to drive business forward.
Headquarters located in Milwaukee, Wisconsin
450 employees and growing
735,000 sq. ft. of trade show exhibit design, manufacturing, and warehousing facilities
8,000+ events supported annually
Recognized by Advertising Age as a top experiential and event marketing agency
OUR STORY
Derse was founded in 1948 by James F. Derse as a sign painting business in the back of his mother's garage. Throughout the next several decades, product lines grew to include outdoor advertising, interior and exterior signage, and trade show exhibit design and construction services.
In 1989, Jim Derse sold the company to current owners Bill Haney and Bill McNamara. Over the years, Derse added multiple full-service offices across the U.S. Double-digit growth continued into the 21st century and services expanded to customer experience and client strategic service practices.
After 75 years, Derse has evolved into a complete face-to-face marketing company with significant expertise in experiential marketing and measurement. Over the past decade, we have mobilized and integrated these services to help clients generate excitement, brand awareness, and buying interest in their targeted audiences.
BRAND EVOLUTION
As our client offerings evolved, so did our logos.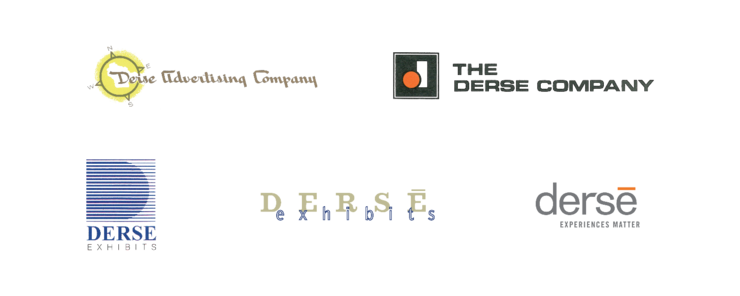 OUR LOCATIONS
We have six U.S. based full-service trade show exhibit and event marketing divisions.