THE RETURN TO IN-PERSON – Vol. 1 & 2
Your guide to navigating the return of the trade show industry.
Although state and local governments, associations, and convention centers have re-opened and now offer in-person events and opportunities, we realize that the world hasn't simply returned to the way it was. To keep you up-to-date with relevant information, Derse has committed an internal task force including a dedicated expert to collect and consolidate guidelines and insights pertinent to the return of in-person trade shows.
As a result, we have created these FAQ guides that include actionable insights to support you in planning your program's return to in-person trade shows and events. The trending topics and sentiments we've included are based on today's most top-of-mind questions and our responses have been gleaned from research on the top 50 major shows and associations, as well as the top 60 convention centers globally.
These guides provide an aggregate overview as a starting point for planning, but we still recommend referencing the individual rules and regulations of each trade show and event you plan to attend, as variations do exist.
As we continue to encounter the full return of trade shows and events, the ongoing economic shifts, global shortages, and new variants of COVID-19 are presenting trade show and event planners with significant challenges. These guides will help you plan and budget accordingly as you prepare to attend upcoming shows.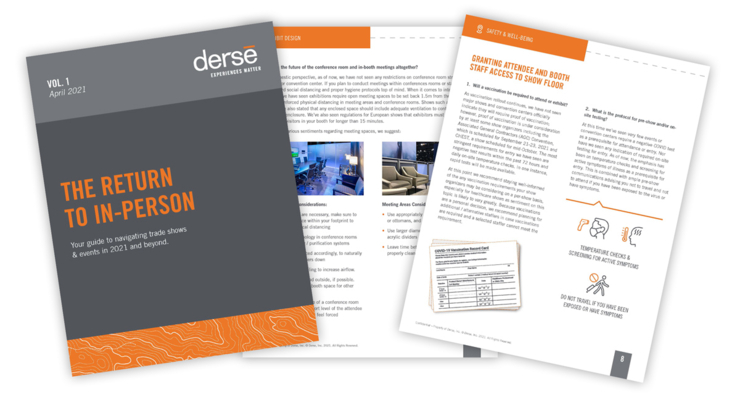 VOL. 1
Updated: April 29, 2021
Topics include:
Industry Sentiment
Strategy & Planning
Safety & Well-Being
Exhibit Design
Audience Engagement
Staffing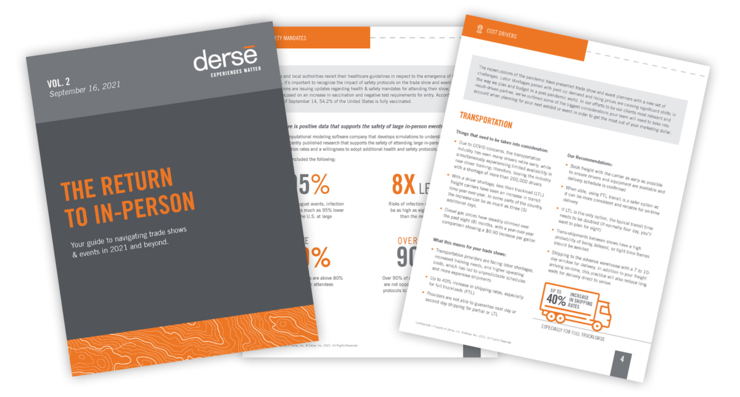 VOL. 2
Updated: September 16, 2021
Topics include:
Cost Drivers Influencing the Trade Show Industry
The Positive Impact of Safety Mandates
LISTEN TO THE WEBINAR
Derse's internal taskforce provides observations and considerations as you plan for the return to in-person trade shows and events.