OsteoCentric Technologies
OsteoCentric Technologies, a medical technology company, was gaining traction in the industry for their efforts in innovation and product development. When they partnered with Derse, they were seeking an exhibit that highlighted their technology by showcasing the products in an educational and engaging way.
SOLUTION
To meet their current objectives and anticipate the future needs of the growing company, Derse designed a scalable exhibit that can be re-configured into various footprints including 10' x 20' in-line, 20' x 30', and 30' x 50'.
Architectural elements incorporated throughout the space echoed the patented thread, emphasizing the distinct and important features of its mechanical design. Products were front and center, allowing visitors to interact with and see the fasteners, while learning more about the technology's differentiators.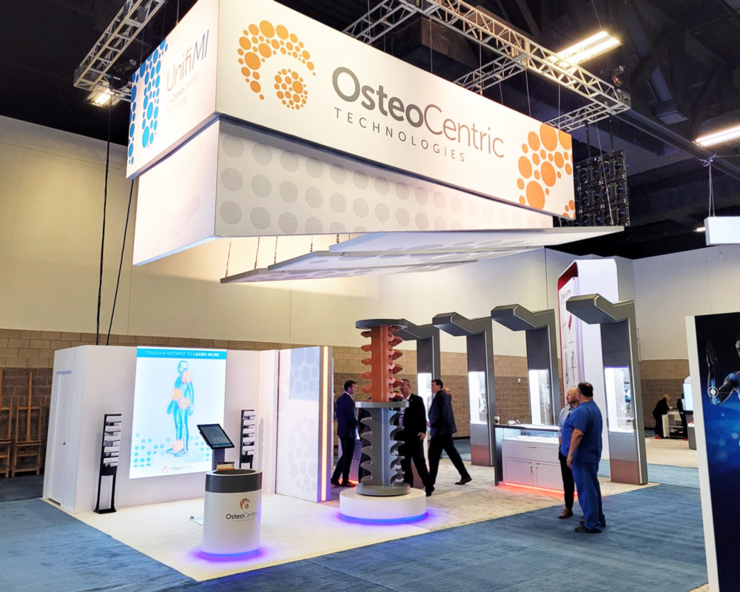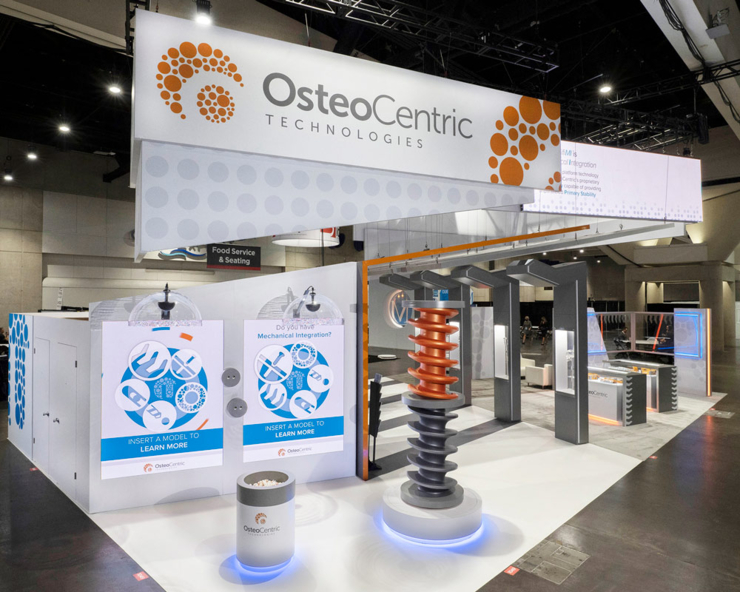 Design elements in the booth included: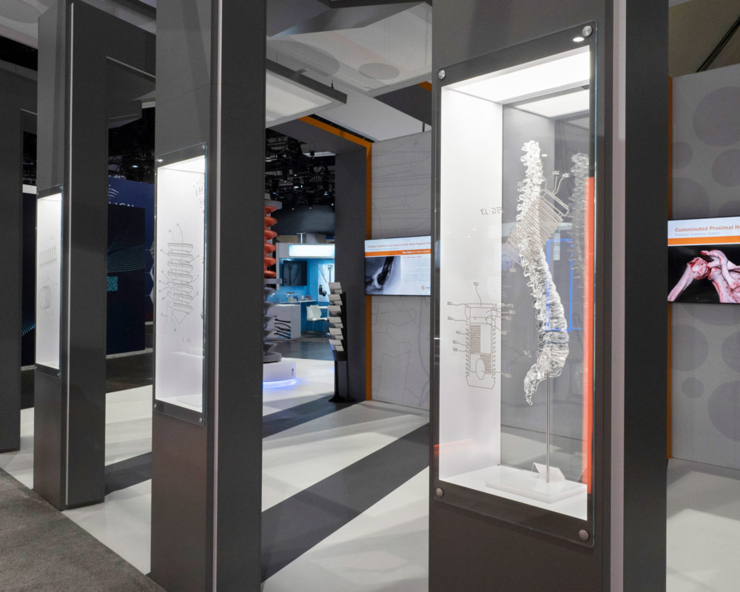 Product Showcase
A showcase containing translucent bones with OsteoCentric's fasteners were encased behind clear acrylic walls and highly visible throughout the booth. Patent drawings were strategically overlaid on the walls to effectively display the technology behind their product.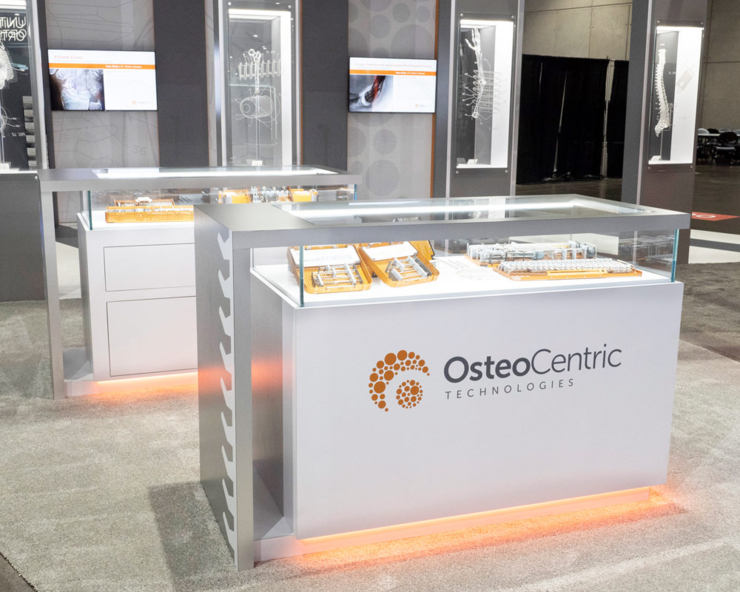 Display Counters
Product counters with clear tops were located throughout the exhibit to display the fastener sets as well as their convenient storage cases. This allowed booth staff to facilitate a discussion about the product benefits as it pertains to healthcare professionals.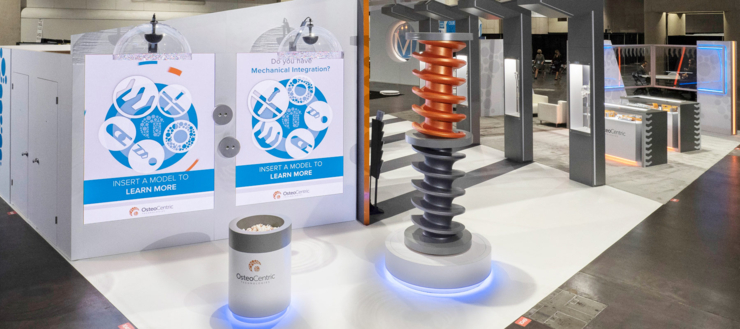 Customer Engagement
An engagement strategy encouraged visitors to interact with the technology in an educational way. To experience first-hand how the fasteners lock in differently than a typical thread, attendees connected replica products to receivers, which then unlocked a digital content wall with more information about their technology.
Product Sculpture
An enlarged fastener served as an architectural expression of their industry-leading technology. The sculpture was horizontally divided to show the difference between OsteoCentric's innovative product design compared to the traditional solution.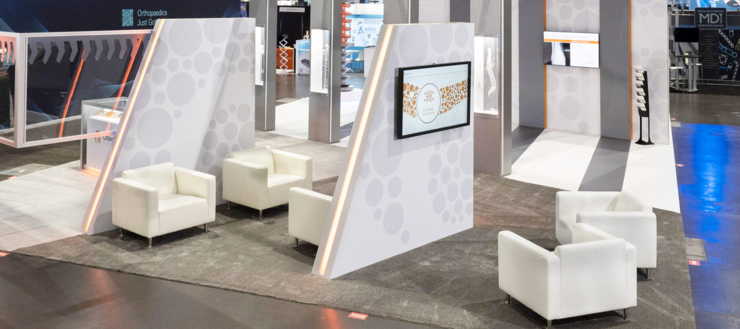 Digital Learning Centers
Furnished areas with digital touch screens were located near the customer engagement area to allow for deeper discussions with booth staffers.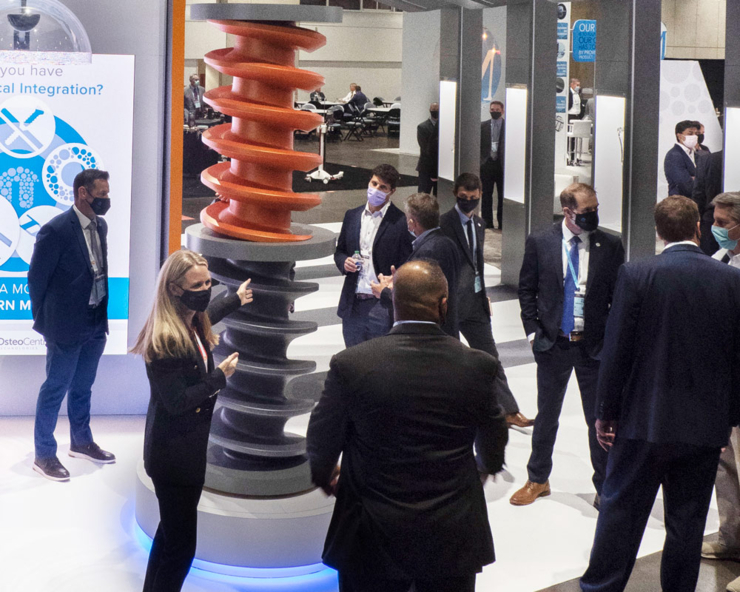 OsteoCentric Gallery
More images of OsteoCentric at AAOS.
OSTEOCENTRIC™ is a registered trademark of OsteoCentric Technologies, Inc.