Dometic, a global leader in mobile living, is no stranger to helping people reach new destinations. They develop, manufacture, sell, and service a broad range of products to enhance comfort, performance, and safety in vehicles. It's mobile living, made easy. They truly prove you can go anywhere with the right equipment, and the right guidance.
CHALLENGE
Heading into RVX 2019, the national RV trade show, Dometic was at a place in their brand journey where they wanted to do things differently and set themselves apart from the competition. With some help from Derse's thought leaders and exhibit designers, Dometic's presence at RVX 2019 went beyond the traditional approach and nabbed the title, Best in Show.
Here are the three ways Dometic earned their Best in Show victory at RVX 2019.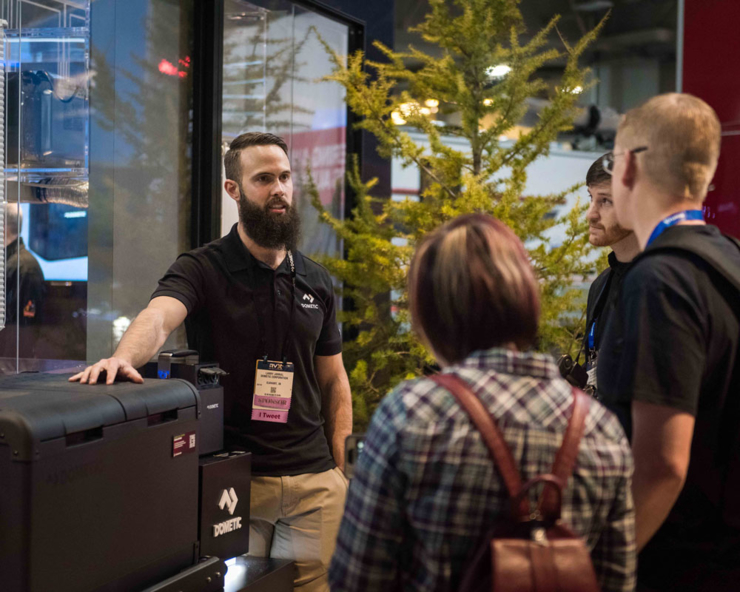 Dometic wanted attendees to see all that was possible in mobile living when using their products, but to make the right impact, Derse had to get creative with how the products were presented.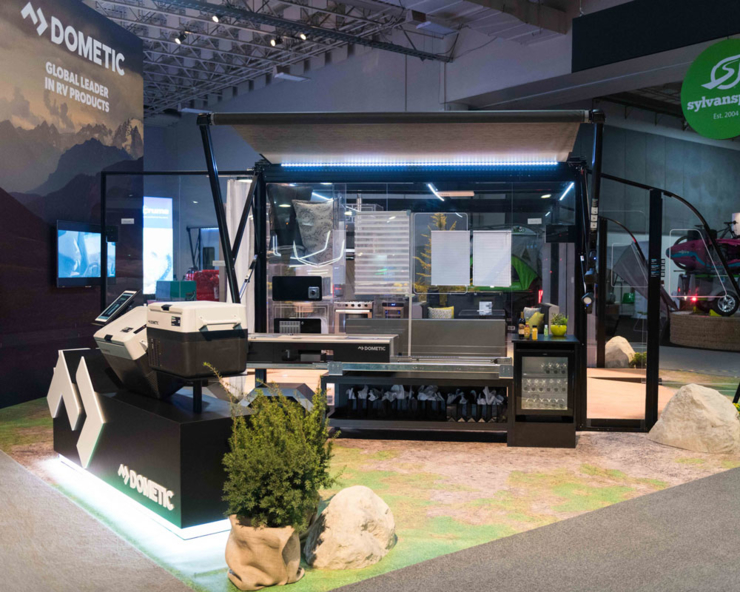 The RV was outlined with black sculpted metal and filled with 4' x 8' sheets of clear acrylic, serving as the RV walls. Vinyl applied to the exterior of the structure represented windows and external detailing, and the RV was complete with faux wheels. The structure showcased product in a bold and stand out way.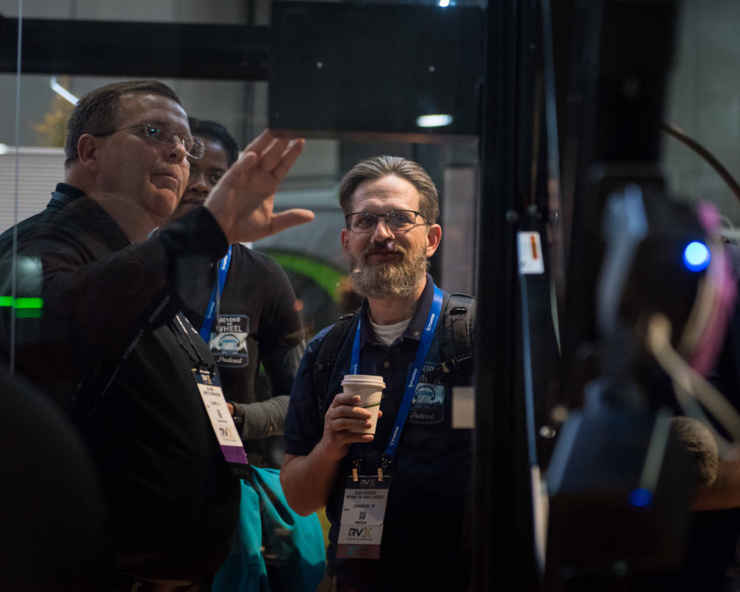 The RV included Dometic's new integrated IOT (Internet of Things) system. It delivered a state-of-the-art digital program giving customers the ability to fully customize and control every product inside of the RV. Attendees could test the blinds, full-sized refrigerator, sink, microwave, toilet, and furnace, all from the touch of a button.
It was clear, literally, that the exhibit made a major impact on the attendee experience. Giving attendees something to see, touch, and feel created a strong selling environment for Dometic.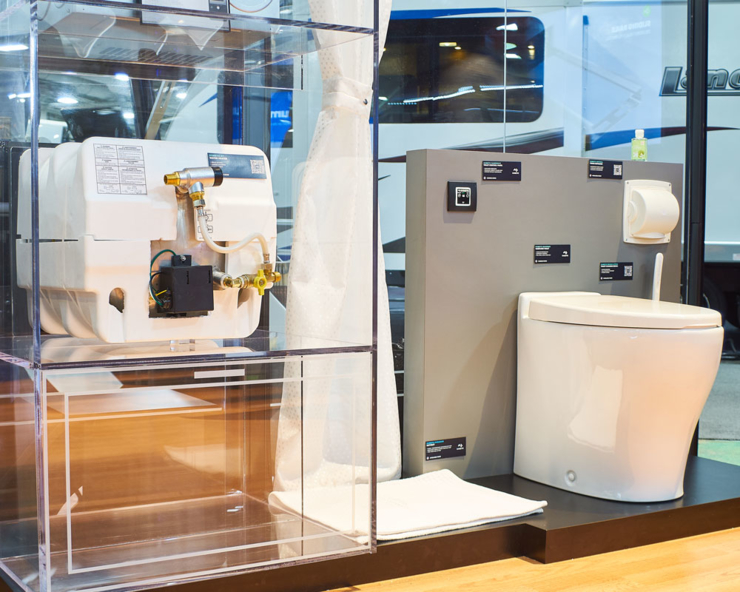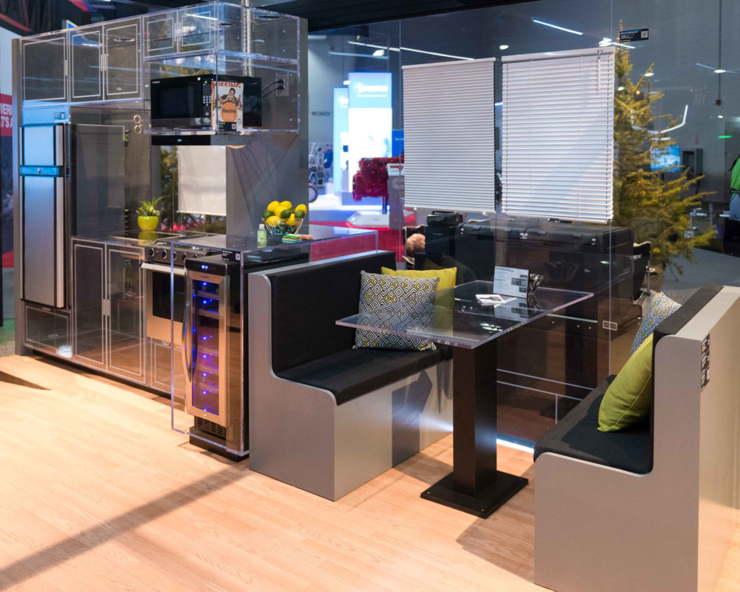 2. THEY IMMERSED THEIR AUDIENCE.
Attendees stepped inside the Plexiglas RV and experienced a real-life representation of Dometic's mobile living, made easy. Under one-see-through roof, Dometic showcased: Oceanair blinds, full-sized refrigerator, sink, microwave, stove, range, toilet, furnace, water heater, mini-fridge, slide out cook-top, and a wine fridge; because even on the road, vino is best served cold!
Digital marketing components were integrated with QR codes marking each product within the RV, providing additional information to attendees on special features and specs via their mobile phones. The combination of real-life application and digital activation created an immersive brand experience within the environment, helping bring their concept "mobile living, made easy," to life on the show floor and giving the audience a glimpse of what's possible with Dometic.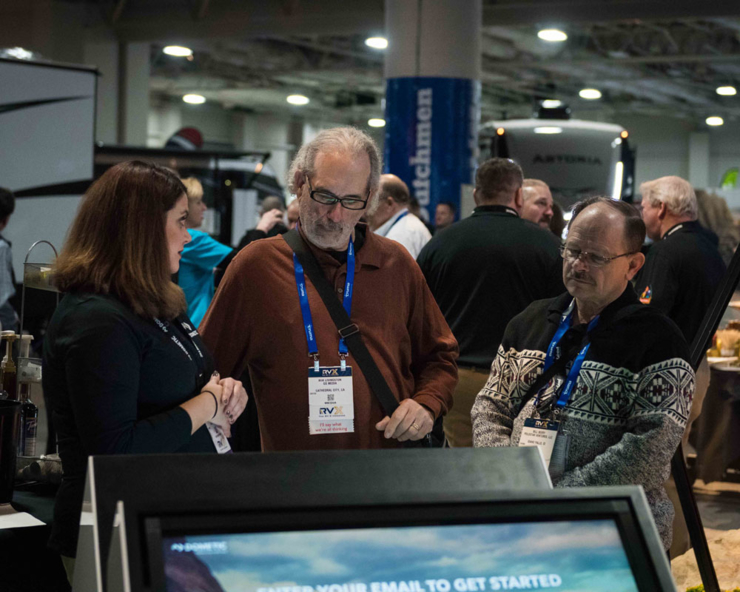 DOMETIC GALLERY
More images of Dometic at the National RV Trade Show.