ITW Food Equipment is an industry-leading designer and manufacturer of industrial and restaurant food equipment. Their food equipment brands each serve different audiences and offer products for diverse customers in the food equipment industry.
After years of exhibiting separately, the Hobart and Vulcan brands of ITW, looked to Derse, their long-standing trade show partner, to unite their brands in one space under the ITW brand at the North American Association of Food Equipment Manufacturers (NAFEM) 2023.
As ITW's brands grow and develop, Derse is ready to grow and develop their trade show programs accordingly.
Derse had previously built new booths for Hobart and Vulcan in 2007 and 2012 respectively. When ITW approached Derse in 2022 with an interest in doing something new for NAFEM 2023, they expressed their desire to have both brands exhibit together.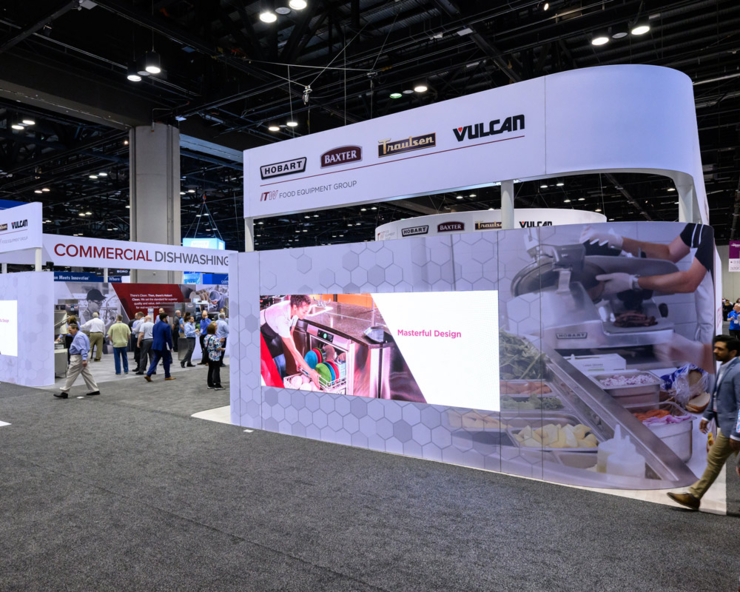 ITW's main goal was to create an exhibit where the ITW name was visible, but didn't reign supreme. Most of their customers aren't familiar with the ITW brand and instead knew the names (and product lines) of Vulcan and Hobart.
ITW wanted to honor the familiarity that their customers had with those brands, rather than overemphasizing the ITW name. Since Vulcan and Hobart are not direct competitors and offer different styles of products, ITW's new strategy was to sell themselves as a solutions-based company, and not as a company based in particular product lines.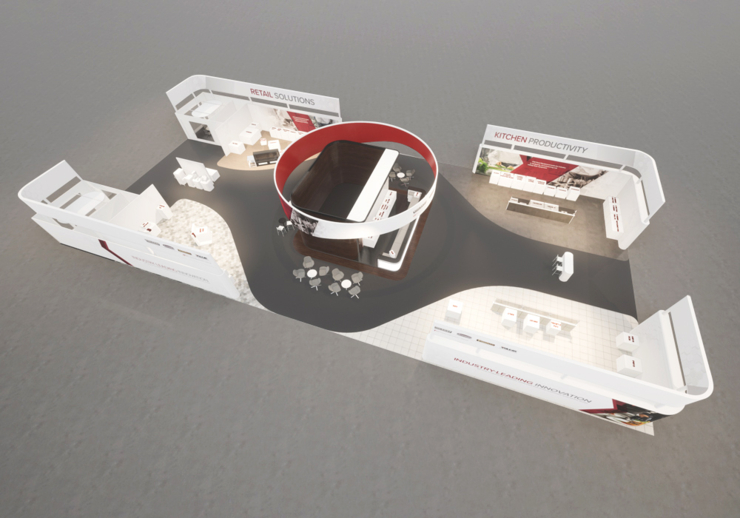 DESIGN CONSIDERATIONS
Other features ITW requested for the exhibit design included:
A modular 150' x 70' exhibit design for NAFEM 2023 that can be used in an 80' x 70' space for NRA 2023

A live demo area with live-streaming capabilities, a large-scale LED screen, and hospitality for attendees

A layout that was split into five different sections: dishwashing, retail, food service, innovation, and Centerline (their mid-tier brand)

Dedicated space in each section for product displays

SETTING EXPECTATIONS
In order to prepare the client for this transition and new build, the Derse team shared an average cost per square foot aligned with ITW's budget to set expectations for the creative scope.
Using the answers from the strategy brief meetings, Derse's creative solutions brought peace of mind to the client by seeing to their needs to help ITW enter a new era of exhibiting strategically.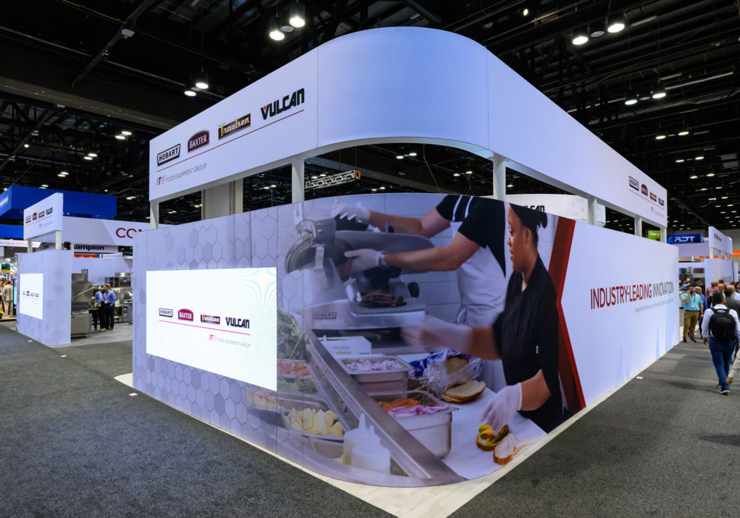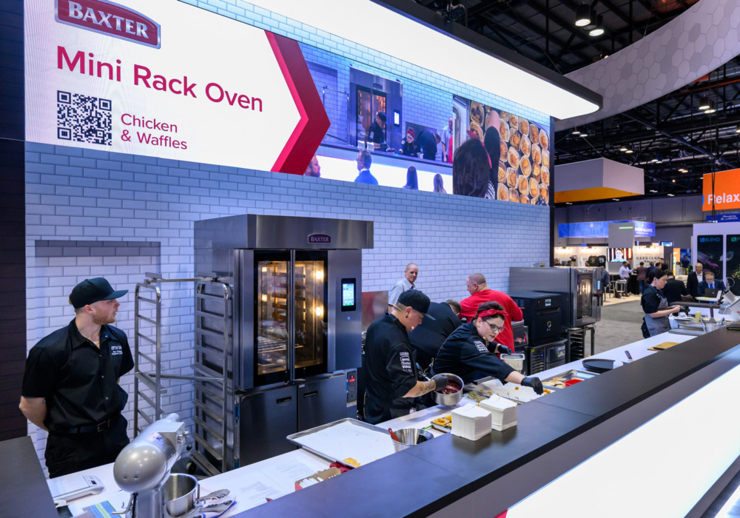 CURATING THE ATTENDEE EXPERIENCE
After viewing two different design concepts, ITW opted for a softer, rounded corner exhibit, which was a new look and feel that created a more approachable experience for attendees.
For the live demo area, Derse designed a central space for live cooking demos that would display their equipment in use and offer free samples. The AV integration included mics on each of the chefs and live streaming which was playing on a large LED screen for attendees to view from any part of the booth. At the live demo, each brand's products were utilized to give them representation.
The other product areas branched off from the centralized live demo section:
Centerline Food Equipment

Dishwashing

Food Service

Retail

Innovation
Derse designed and produced the graphics for the exhibit in collaboration with ITW's copy and brand guidelines.
PREPARING ITW'S STAFF
The Derse team focused on equipping each of the brand's representatives with the necessary information so they could appropriately lead and prepare their teams for their new exhibiting strategy.
By thoroughly explaining to the brand teams staffing the booth the intentional floor plan, graphic real estate, product line organization, and AV integrations, Derse gave each of ITW's product managers the information needed to get their teams excited about the new exhibit.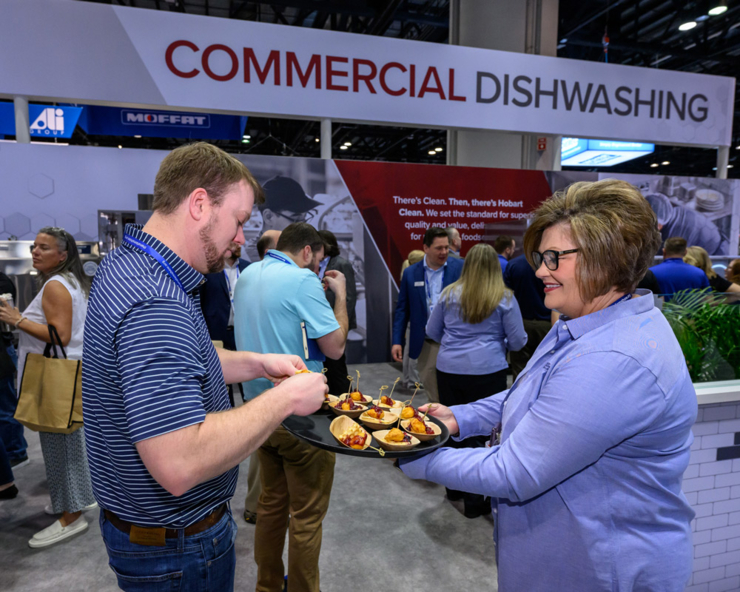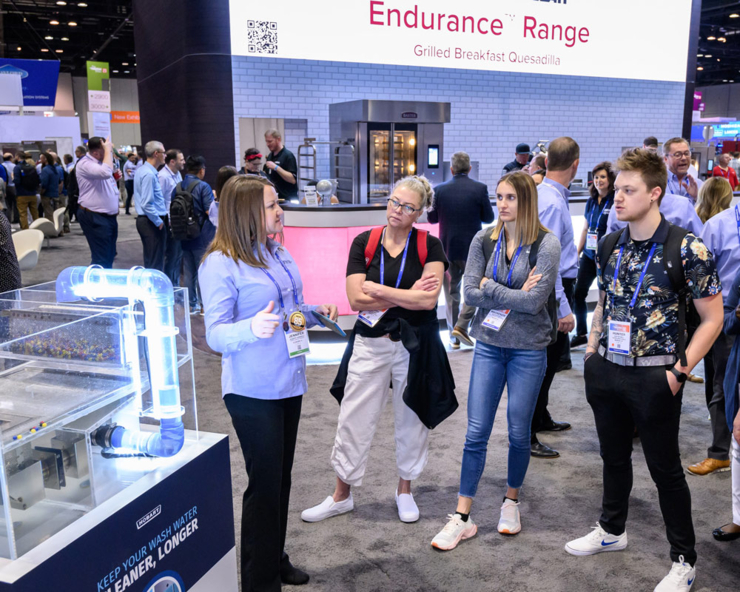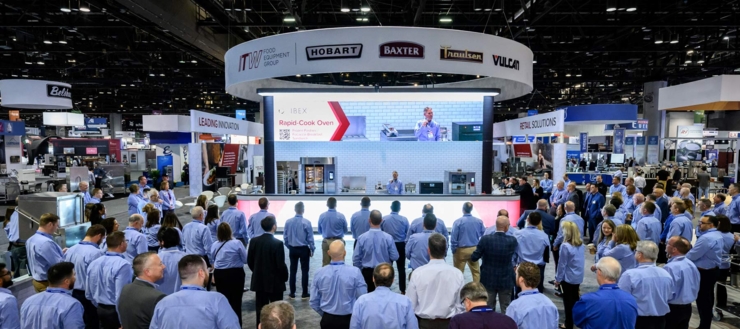 SUCCESS ON THE SHOW FLOOR
After a year of planning and preparing for NAFEM 2023, the show opened. Derse's trusted AV partner, Stamm Media, successfully activated the LED screen, gave mics to chefs for the live demos, and livestreamed the demos to the screen. ITW was impressed with Stamm's professionality and effectiveness, and looks forward to working with them at NRA 2023 — as are we!
ITW's new exhibiting strategy was deemed a success. Throughout the show, the booth was packed with attendees engaging with their staff, products, and the live demos.
One of ITW's representatives said:
"Spectacular! The booth made a statement and exceeded our goal for traffic and high quality leads."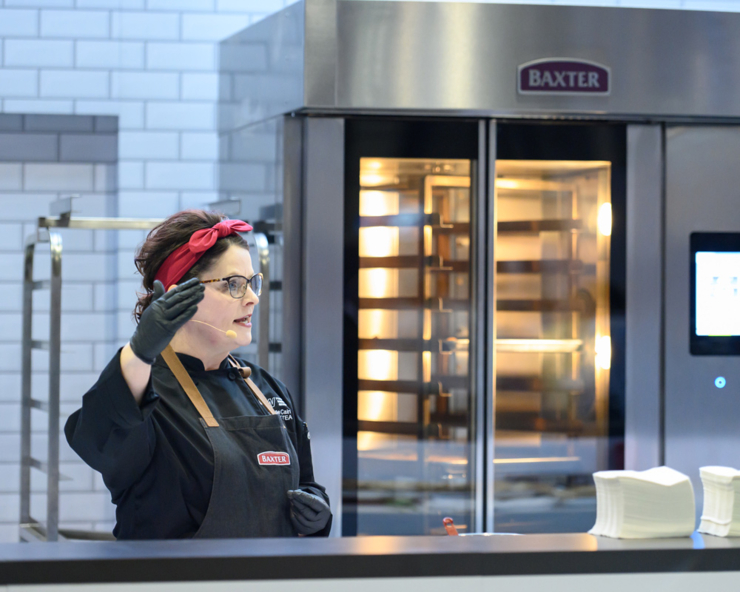 ITW GALLERY
More images of ITW at NAFEM.