The Nuances of Healthcare Exhibit Design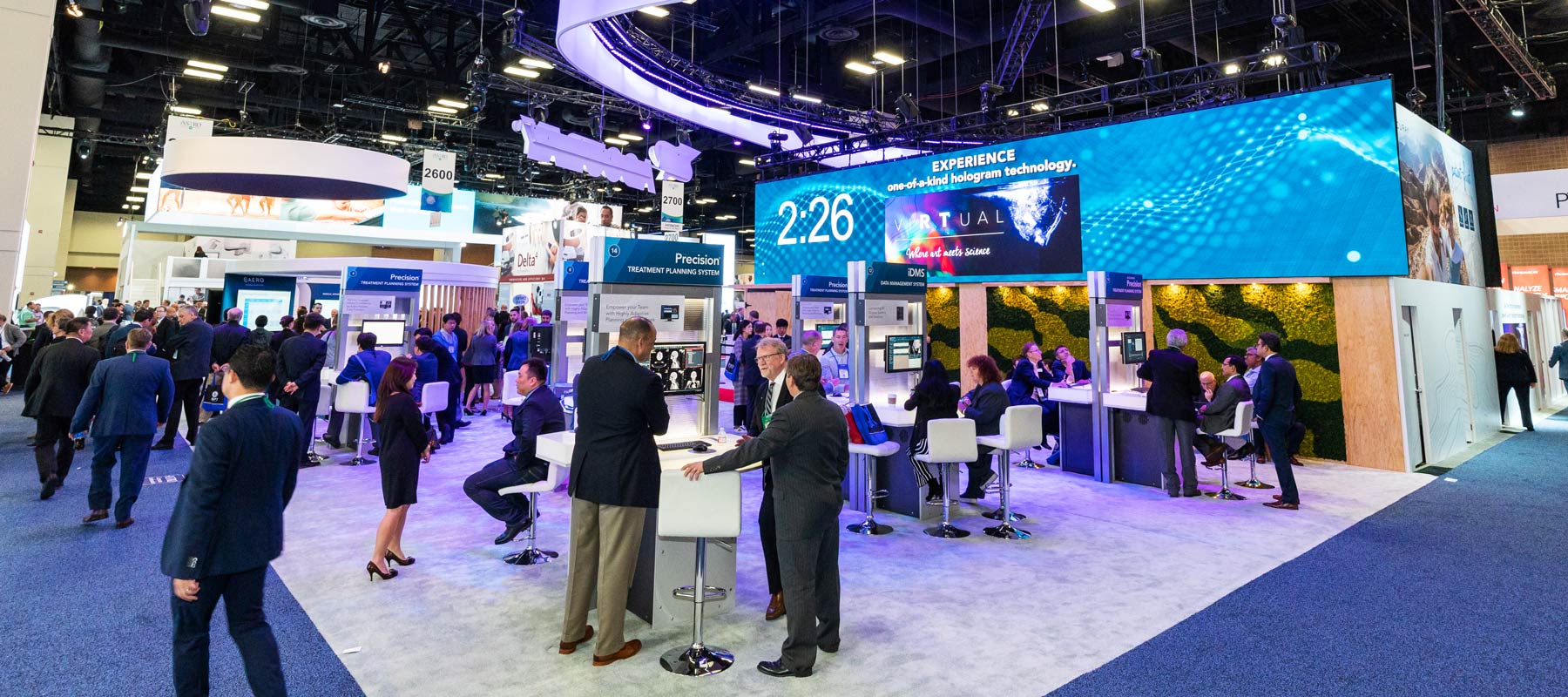 Trade show marketing in the healthcare industry isn't always straightforward.
Whether you're facing updated regulations, working with a healthcare marketing agency on your messaging, or trying to balance opposing viewpoints from the decision-makers in your company, we know that you are taking on a lot for your trade show program. And it's time someone helps make things easier for you, not harder.
We sat down with our subject-matter expert on healthcare exhibit design to share four considerations for your program to overcome the nuances of exhibiting in the healthcare industry.
1. THE ERGONOMICS OF YOUR SPACE
As data continues to play a critical role for HCPs learning about new products and drugs, medical affairs garners an increasing amount of attention on the trade show floor. Use this as an opportunity to consider how you can improve the ergonomics of your space.
It may be tempting to add additional monitors or counters in the medical affairs portion of your exhibit, but if it limits the flow of attendees or creates an overwhelming atmosphere, it won't serve the purpose you are intending.
Make sure your exhibit is easy to navigate and welcoming to attendees. This might require limiting the furniture in the space, creating wider pathways, using fewer monitors, or even considering a larger floor plan. If you anticipate attendees to spend more time with medical affairs this year than years prior, it might be time to dedicate more space to it. Ultimately, you can minimize congestion and welcome more people into your exhibit.
2. ONE SIZE FITS ONE
Don't get swept away by the trends you may be seeing on the trade show floor. Just because one particular design, activation, or message works for one company does not mean it's what's best for you.
Work with partners who believe in the importance of uniquely designing a trade show exhibit to achieve your program's goals.
3. PARTNER WITH KNOWLEDGEABLE AGENCIES
Before following through with a booth design created by your healthcare marketing agency, consider running it past your exhibit company to see if it's even plausible to execute it.
While healthcare marketing agencies are experts in healthcare marketing messages, they may not be aware of the regulations and nuances of trade shows. Best practices for exhibit fabrication, value engineering, the cost of ownership, and the potential benefits of rental versus custom exhibits are just some of the many essential details that affect your individual show budget and your overall program's bottom line. Your trusted exhibit partner plays a key role in keeping you informed of varying regulations and best practices while working collaboratively with your other partners.
4. EDUCATE YOUR TEAM
If you've been struggling to get your internal decision makers on board with plans that you're excited about, focus on what educational gaps they may have in their trade show marketing knowledge.
It could be that they simply don't see the impact of experiential marketing or need to be better informed about the ROI of your trade show program. With more information about the value of your trade show program, they will be more willing to invest their time and attention in the decision-making process.
Looking for more inspiration? Subscribe to our newsletter.