3 Reasons to Rent Your Trade Show Exhibit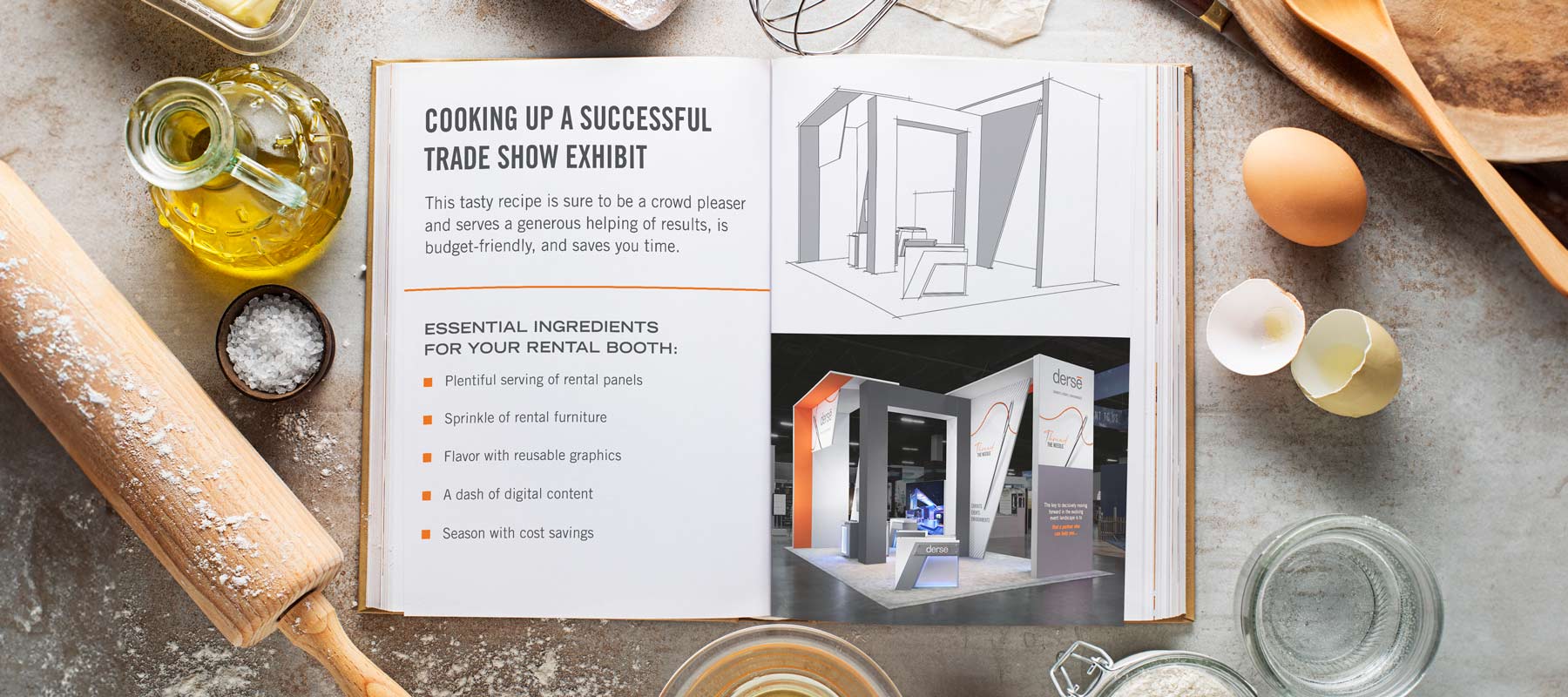 Trying to cook up a successful exhibit but facing limitations in the planning process? At a time when budgets are tight and timelines are even tighter, rental exhibits can be an essential ingredient for your trade show program.
Let's take a look at some of the scenarios you may be facing that rental can help with:
Creating Cost Efficiencies
When many of our clients first partner with us, the properties they own are often heavy and outdated. Heavy exhibit components result in high transportation and material handling costs (a less than savory expense). With a desire to refresh their look and feel without investing in new properties, we can seamlessly revamp clients' trade show programs with rental exhibits. Not only have these clients saved on transportation and material handling because of our lightweight materials, they also have been able to significantly reduce or eliminate storage costs because they are choosing to rent their booth.
All of these potential cost savings paired with the ability to make meaningful connections at every show they attend—now that is a recipe for success!
Meeting Tight Timelines
If you get a last-minute greenlight to attend an upcoming show, or are facing an out-of-the-blue request to attend a certain show, rental exhibits have you covered. Whether a rental exhibit is a pre-designed kit or a custom rental, the availability of rental components will be much more likely to make your condensed timeline work.
For example, when a new client came to us looking for a trade show solution for their 30,000 sq. ft. booth with only a few months until the show, we leveraged our rental components to ensure their success. Thanks to rental components, the client won "Best of Show" and considered it the best booth they've ever had.
Achieving a Custom Look Without the Custom Price Tag
Rental exhibits don't have to be boring—a little seasoning goes a long way. Derse's pre-designed rental kits and accessories give rental exhibits a whole new definition. With a well-designed rental exhibit, your brand can be well-represented and your goals are still within reach.
One of our client's, Fetch, wanted to capture the attention of new audiences and generate conversations with their current customers, but with only two shows a year, it didn't make sense to invest in a custom build. With a custom rental exhibit, we helped our client Fetch achieve their goals in a 20' x 30' footprint.
Regardless of your appetite for seeking out a rental exhibit, there's one not-so-secret ingredient to achieve success: an experienced partner ready to provide you with dependable solutions. A strong partnership will guide you through the process, evaluate your needs and budget, and ultimately ensure the execution of your exhibit.