A glass-half-full approach. Four ways to positively integrate health and safety precautions into your event engagement strategies.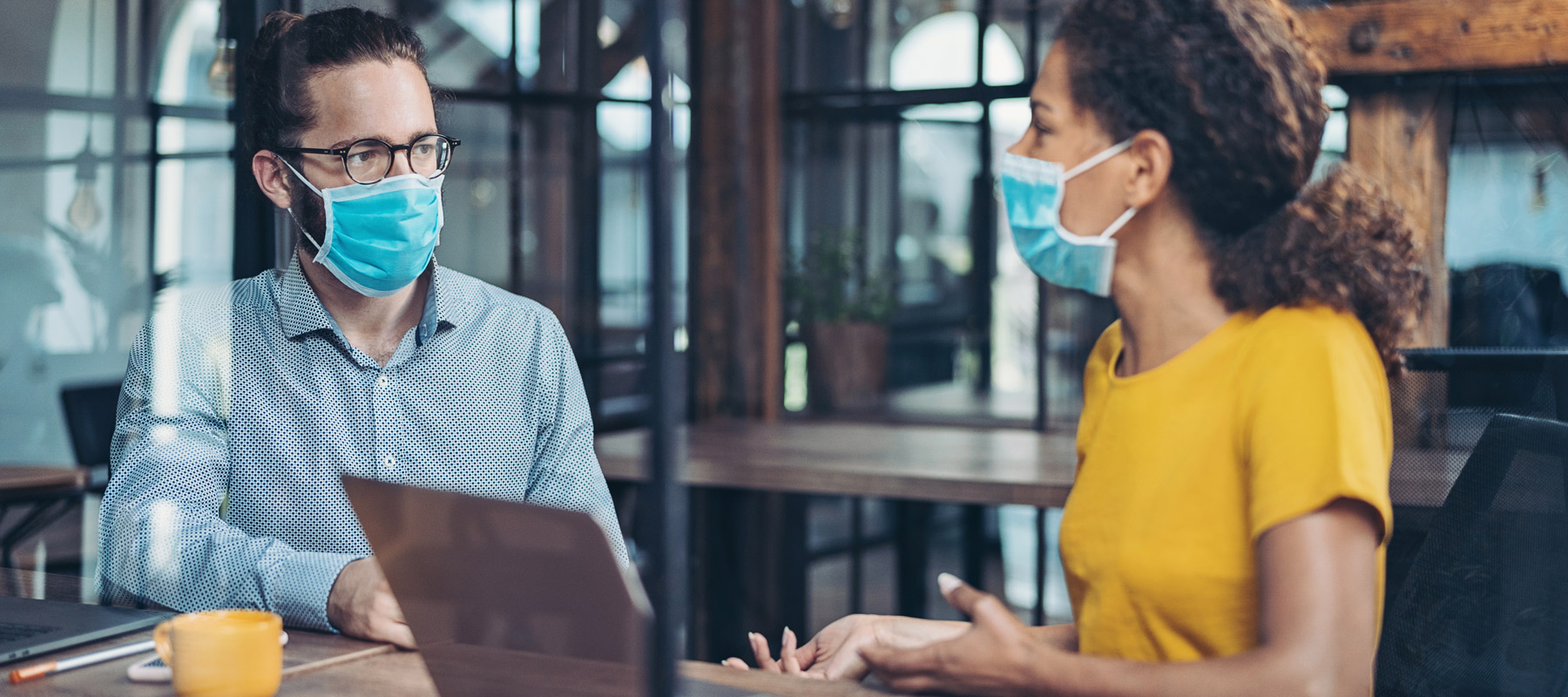 As event and trade show professionals, we're extremely eager to get back to what we do best: engage customers and tell our brand stories, face to face. Although we are in a holding pattern right now, in-person events and trade shows will return. And when they do, we'll need to be ready for them to function differently than before COVID-19. Trade show and event planners must consider event safety and attendee comfort alongside strategic business goals.
It might seem like an overwhelming challenge… or maybe it seems like a challenge you've put on the back burner while trade shows are still on pause. However, we recommend preparing for these challenges (and opportunities) now so you and your teams are prepared once in-person events come back. Our vice president of creative, Todd Sussman, gave us four tips to consider when planning future in-person events that will help you capture the attention of your limited audience, and engage them in brand experiences that are worthwhile and safe.
---

Think back to more than a decade ago. In 2008 and 2009, many marketing budgets were tightened due to economic decline from the global recession. Companies reduced travel budgets and sent smaller groups to trade shows. While it originally seemed like a disadvantage to trade show exhibitors, it proved to be a benefit. Companies were forced to ask themselves: If we can't send a large group of people to a trade show, who do we send? Answer: the people who can best evaluate our current partnership, product, and service needs!
When trade shows return, the number of attendees might be smaller, but they will also be more targeted. True purchase influencers and decision-makers will be there. Moving forward, it won't be the quantity of interactions in your trade show booth that matter, it will be the quality.
---
Traditionally, the best trade show booths use open spaces with opportunities for interaction, discovery, and conversation. Success was measured in terms of dwell time – how long people were spending in the booth. Post-COVID, trade show environments will have to be designed to encourage storytelling in a quick and safe manner. We think one of the most interesting ways to ensure safety while providing an interactive customer journey is to – believe it or not – make your booth smaller. Rather than using large, open spaces, implementing a more closed-path customer journey, almost like a maze, will direct visitors into a one-way flow of traffic. This limits face-to-face interactions to the ones that matter most – the interactions with you. Much like the experience visitors have in a museum, implementing a more controlled journey through your exhibit using the configuration of the space and/or directional markers will provide an opportunity to communicate a compelling narrative your attendees can follow. Information will be communicated in the proper order with a definitive start and end point, and your message will be easier to understand.
---

Who would have ever thought people would wait in line to enter a store at the mall? Right now, that's "normal," or at least expected. COVID-19 has conditioned us to wait in socially-distant lines, follow directional markers, and stand in designated areas. Rather than creating frustration, these social cues can make a space look more desirable. You can even demonstrate a sense of control by limiting the number of people inside your booth. Prior to the show, ask attendees to reserve a time for their visit and have them check in at a designated area upon arrival. As a bonus, asking attendees to make reservations at your booth will provide a reason to make contact before the show starts.
---

It is possible to create a welcoming experience while showcasing the ways you are ensuring cleanliness. If you have a meeting room as part of your booth, rather than hiding the air filtration unit in a cabinet, let it be seen. Be obvious about your cleaning. Seeing your event staff regularly disinfect surfaces will promote a feeling of safety. Finally, acknowledge that it is important for attendees to feel comfortable selecting or sampling a beverage or snack. If your company traditionally provides food and beverage at an event, look for single-serve ways to continue your tradition.
---
Although events and trade shows might look different than those we've experienced in the past, with some optimism and planning you may find yourself achieving more purposeful results, and making better, more authentic connections.
Subscribe to Derse Direct, our email newsletter covering industry, company, and thought-leadership topics, to stay up to date on our perspective as in-person events and trade shows return.
---