What You Need to Know About the Return to In-Person Trade Shows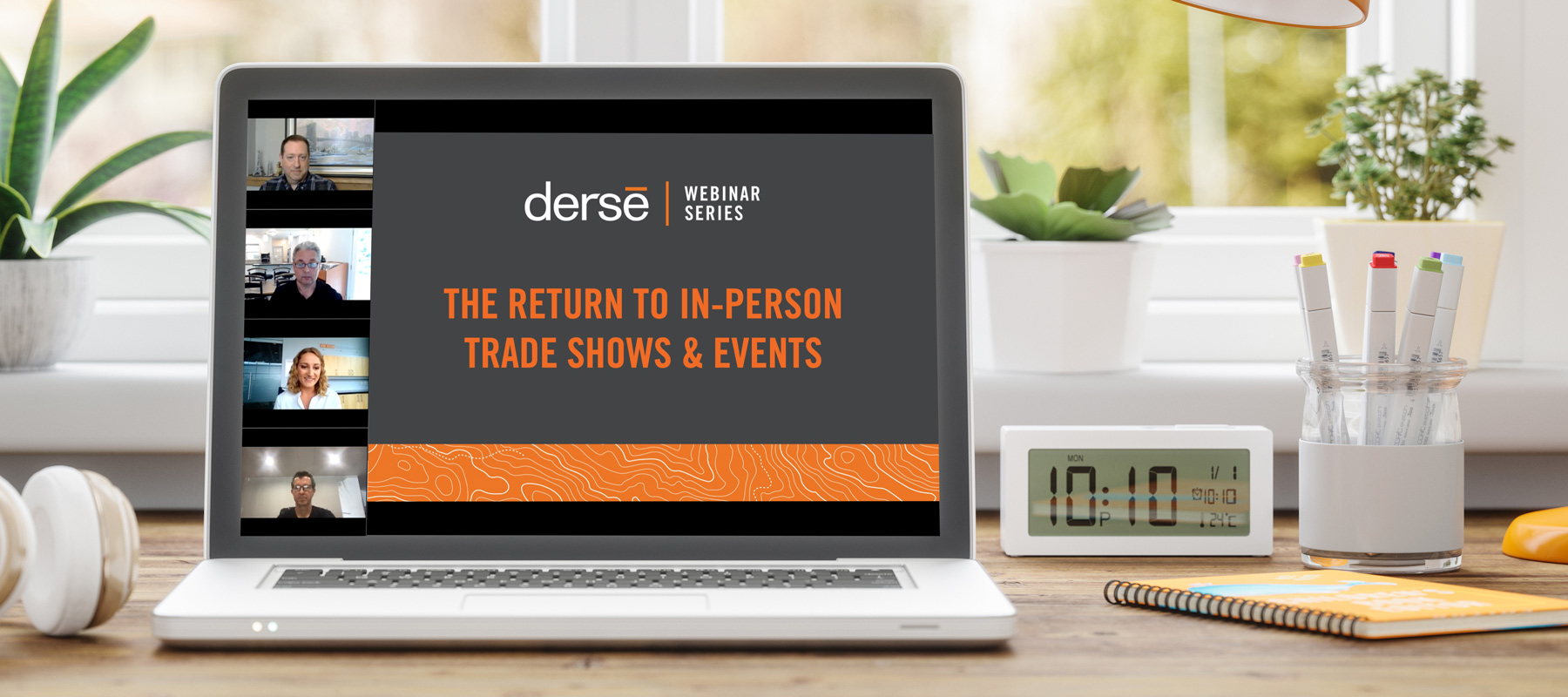 If you're wondering how other event planners and trade show experts are navigating the return to in-person events, you're not alone. Health and safety requirements are evolving every day, along with the science around COVID-19.
At Derse, we have assembled a task force of experts and charged them with staying up-to-date with the most recent developments in live trade show rules, regulations, and best practices so we can safely and successfully gather together again. On May 27, 2021, Derse's internal task force presented The Return to In-Person Trade Shows and Events. The highlights are here; be sure to watch the whole webinar to get all the details.*
---
Vaccinations
Although most shows are not requiring proof of vaccination, some are considering it. As of the webinar date, HIMSS 2021 is requiring proof and CHEST 2021 is asking participants to attest to receiving the vaccine, but not requiring proof.
Testing and screening
Most organizers are planning for temperature checks and health screenings, but as of now, we do not know of any shows planning to conduct on-site testing for admittance.
Mask mandates
Many shows are requiring masks, but some are assessing the requirement. Be sure to check your show's website as this is a rapidly shifting protocol based on CDC announcements.
Social distancing
Most shows are recommending social distancing, but many are removing language that requires attendees to maintain distance. Be sure to check the rules for your show. These protocols may influence your booth design and customer journey.
Cleaning procedures
While you are generally still responsible for cleaning your own booth, most shows are instituting more frequent and enhanced cleaning of exhibit halls and common areas.
International protocols
We are seeing more requirements (rather than suggestions) in Europe. In addition to social distancing, most shows are requiring booth capacity limits and you must submit health and safety plans to exhibit. Some will have dedicated individuals to ensure compliance. Set back rules have changed and acrylic barriers are required in certain areas. Some shows have rules around ventilation, for example in a conference room, and expect exhibitors to track attendee entrance/exit for contact tracing purposes.
Exhibit design
As we always say, comfort is king. Design your booth to allow for natural physical distancing. You might want to consider sending fewer staff members, pre-scheduling meetings, and bringing only your most relevant product lines to create more space. During the webinar, we showcased examples of how a booth floor plan can be both elegant and designed in a way that facilitates safety.
Audience engagement
Although safety is a big concern in the post-COVID era, it is important to remember that people are attending trade shows to meaningfully engage with other people. Make sure your staff is prepared. It's been a while so some re-training might be in order. Ask yourself, how can we reduce friction from the attendee experience? We shared several ways exhibitors can engage attendees with safe and intuitive technology. Many upcoming events will take a hybrid approach, combining in-person and virtual event elements. If you're wondering whether your virtual strategy should be different from your in-person approach, our advice is to remember the effort required and the reward. For example, a conference in Hawaii recently provided attendees with virtual access to the speakers' presentations. When attendees discovered they could "attend" poolside or from the beach, they did it. Ask yourself how you can give attendees access to valuable information, but not necessarily everything all at once.
---
Finally, look at local governance and follow updates from your show organizer to ensure you know what your show will require. At Derse, we are tracking more than 100 trade shows in a variety of industries from medical to manufacturing. We will be sharing updated information as it becomes available, but if you have a question, please contact us. We're here to help you safely and successfully make the return to in-person trade shows in 2021.

*Please keep in mind that trade show and event safety protocols are constantly evolving. The information presented in this webinar is current as of May 27, 2021.
---