How to Maximize Your Virtual Healthcare Conference Presence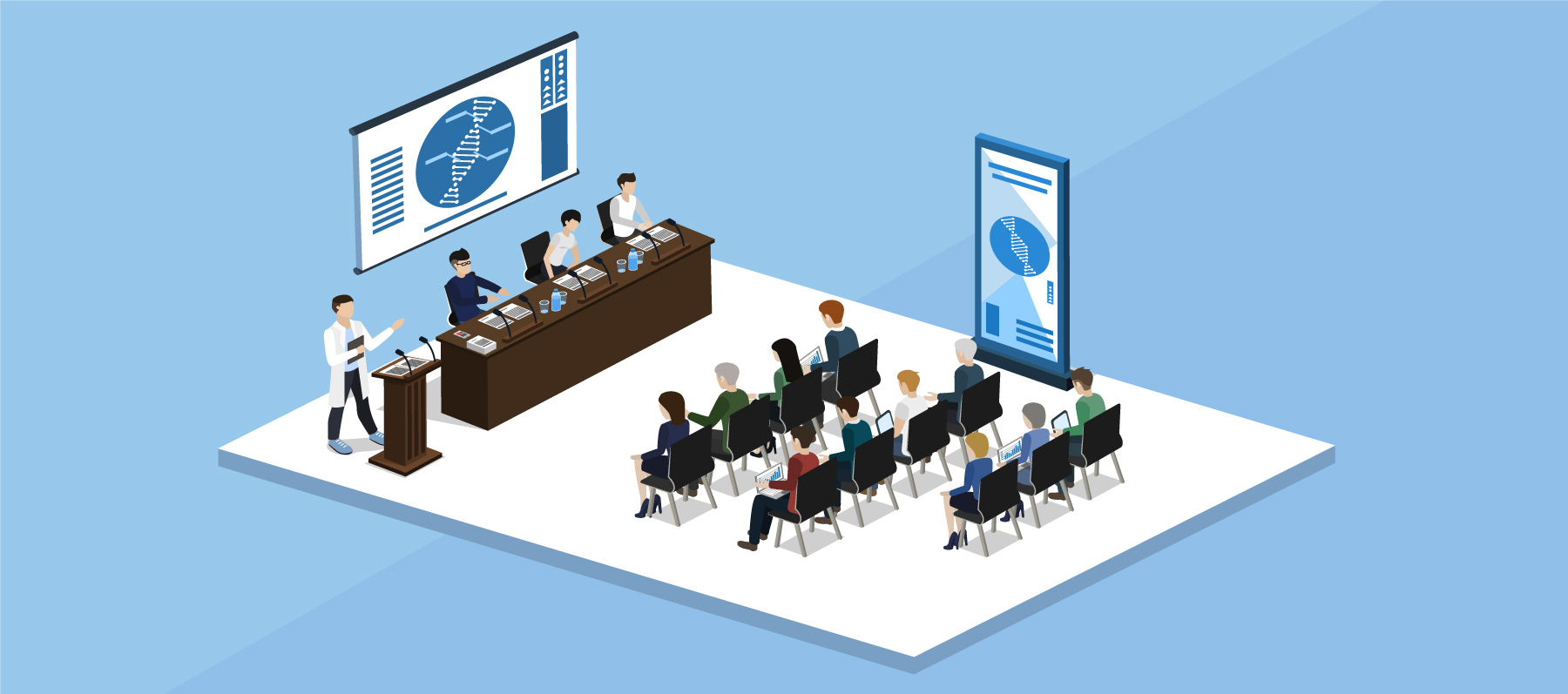 TIPS FOR HEALTHCARE EVENT MARKETERS
The last six months have given us the rare opportunity to watch the scientific process unfold in real time as the world struggled to come to terms with the novel coronavirus and its impact on every facet of our lives. Every week presents new hypotheses, new data, and new conclusions, ultimately leading to a better understanding of the risks.
Healthcare marketing has undergone a similarly rapid evolution, with the pandemic hitting immediately before the busy spring congress season. Pharmaceutical companies along with the major associations scrambled to understand how to handle the 'new normal' (a phrase which we would be happy to never hear ever again) and how to best take advantage of congresses as they became virtual healthcare conference events.
With the spring shows in the rear view and fall congresses underway, we wanted to take advantage of what we learned from the successful virtual conference experiences we've had in the last six months, and how these online events can shape our thinking about healthcare marketing for medical conferences in 2020 and beyond.
---
THE BIG QUESTION FOR HEALTHCARE MARKETERS: WHY PARTICIPATE IN A VIRTUAL TRADE SHOW?
In healthcare there's no such thing as a panacea, and the same holds true for healthcare marketing – one size fits exactly one. Before you decide on why (and then how) to go virtual, consider where your product (or franchise) might be:
CHALLENGE: Brand / Indication Launch
At the risk of stating the obvious, you only get one chance to launch a new product or indication. In addition to the usual complexities of aligning a PDUFA date (deadlines for the FDA to review new pharmaceutical drugs) with your show schedule and navigating the uncertainties of FDA approvals, what happens when your brand is launching at a congress that has gone virtual? Here are just a few ways we've guided our pharmaceutical and healthcare clients this year:
Leverage the excitement: A product launch is a unique opportunity, and healthcare providers have historically been hungry for what's new. Using pre-congress marketing and sales channels, you can seed the excitement that will take place within your virtual presence to your desired audience and help overcome one of the persistent challenges in virtual events – driving traffic to a virtual presence.
Think beyond the (virtual) booth: One thing that hasn't changed in the transition from in-person to virtual healthcare events is the importance of a coordinated pre-show, at-show, and post-show strategy. For a brand launch, a pre-show strategy can be used to drive anticipation—building up to the reveal of key data in the virtual experience while inviting follow-up through post-show channels. This holistic strategy can be combined with a clear sponsorship strategy to ensure your launch message is 'owning the show'.
Find opportunities for connection: In our experience, the greatest loss in the transition to virtual events is the loss of connection – between attendees, and between attendees and representatives. While chat features are (almost universally) forbidden from a regulatory standpoint, consider how your virtual experience could create opportunities for live follow-ups with your representatives, either as a part of an at-show activation or as a post-show communications campaign fed by the at-show experience.
CHALLENGE: Ongoing Brand Presence
Annual congresses play a huge role for products looking to stay relevant in a given therapeutic area. Even without the pomp and circumstance of a launch, a virtual congress is an opportunity to celebrate key product differentiators. These differentiators should inform your approach to your virtual presence:
Find your story: The right healthcare marketing strategy for a mature product that is debuting a new campaign might be very different from a mature product featuring key new data. The former might be better served with a bespoke virtual experience that brings the new campaign to life, while the latter could focus their energies and budget on educational experiences that reinforce the new data.
Make some noise: As mentioned above, driving traffic to online virtual experiences is a unique challenge, especially without the buzz surrounding a new approval. In addition to a robust pre-, at-, and post-show marketing strategy, consider other unique virtual engagements that can create buzz and drive traffic by bringing your data or campaign to life in unexpected (and virtually-appropriate) ways.
CHALLENGE: Disease State Education
Products in the pre-approval phase benefit from a different approach, with a greater emphasis on science and education.
Integrate your virtual and pre-launch strategies: Virtual environments could be considered an extension of your pre-launch campaign strategies. This presents the opportunity to harmonize your messaging and optimize the reach to an extended audience. As with a branded experience, your virtual conference presence is an opportunity to bring any disease-state awareness campaigns to life in the context of a virtual congress.
Focus on education: Considering that many HCPs (Health Care Providers) are drawn to the educational content at any congress, consider creating a virtual experience that (appropriately) drives awareness of posters, abstracts, and other content in unexpected ways.
---
THE NEXT BIG QUESTION FOR HEALTHCARE MARKETERS: WHAT DOES A COMPELLING AND EFFECTIVE VIRTUAL EXPERIENCE LOOK LIKE?
The first shows to go virtual featured exhibitors hewing pretty closely to their existing trade show programs, using a 3D model of their trade show booth to house relevant data. For many of the spring shows this made sense – the limited time to develop an online experience made an existing design very attractive, especially when the live event canceled even as the physical properties were being loaded onto trucks from our shop.
Most (if not all) of the associations have taken a similar approach—congresses attempting to recreate a convention center through landing pages or offering pre-designed trade show booths to exhibitors.
For the fall congresses, it is becoming clear that designing a compelling virtual experience is fundamentally different from creating an engaging in-person experience.
As you think through what your virtual event should look like, consider…
Should your virtual event look like your trade show booth?
HCPs visit the virtual show floor for many of the same reasons they would visit the live show floor – for education and easy access to the latest data. If a 3D model of a trade show booth makes it too hard to find the data your audience is looking for, it may not be the right approach.
Our creative teams are thinking beyond a traditional trade show for inspiration, crafting unique digital environments inspired by brand stories, campaigns, or data to create virtual environments that are easy to navigate while feeling distinct from other online channels. Ultimately, the best virtual environment is the one that allows HCPs to easily access your content using an interface/experience tied to your brand or campaign story.
What is the role of the association?
A consistent piece of feedback we've heard from many of our clients is that it takes too many clicks to get from the association landing page to their branded marketing content. Like any other event, a coordinated pre-show campaign, potentially in conjunction with association sponsorships, can raise prescriber awareness and drive traffic to your virtual presence.
As you begin planning your virtual presence, ask the association:
How will attendees find the exhibitors' virtual environments?
How is the association incentivizing traffic to the virtual trade show floor, and how can your presence benefit from these tactics?
What sponsorships are available, and which ones will help drive the most meaningful traffic to your presence?
What networking opportunities are available for attendees, and how do these align with regulatory guidance?
Derse's team can help you navigate these questions, with an eye toward maximizing the value of your participation and your investment.
---
We understand that in healthcare marketing, there is no such thing as a panacea – every specialty has unique care-abouts, and every brand has a unique story to tell. As the approach to virtual exhibiting in the healthcare space continues to evolve, we hope these questions will help you stay ahead of the curve by focusing on how virtual can help you tell your story, as engagingly as possible.
---