How to plan for your trade show during the pandemic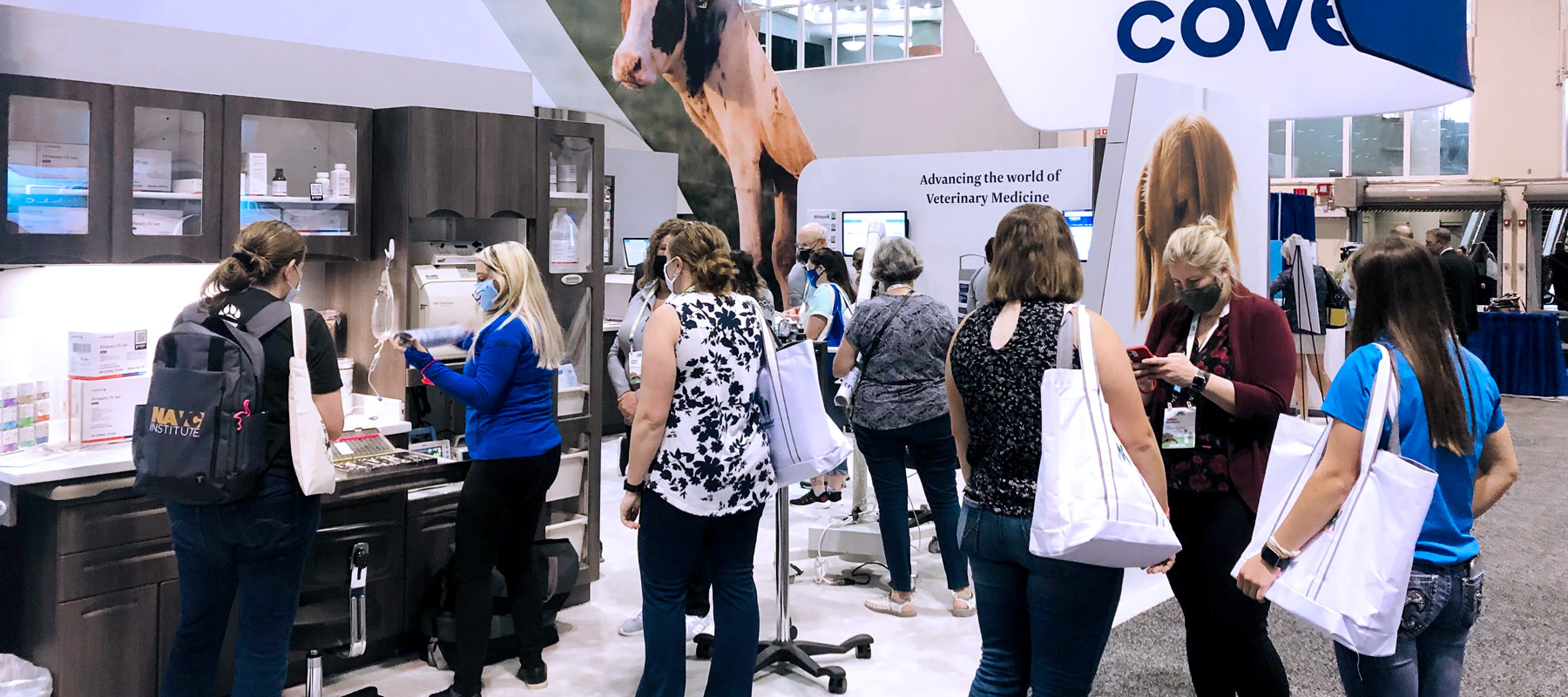 Although the world of trade show and event planning is returning to some semblance of normal, regulations around trade shows have impacted best practices for planning and shipping your booth. It is important to be aware of these changes as you plan for your upcoming shows. Doing so will ensure your trade show booth and other materials arrive on time and that you are providing the best possible attendee experience during your 2021 – 2022 trade shows.
---
Booth Planning
Although physical distancing may be a recommendation from show management, it is important to remember that attendees might be adjusting to the idea of more crowded spaces.
For example, to provide enough room for social distancing, the current recommendation is one person per 28 square feet. This translates into 14 people within a 20' x 20' exhibit space. Your trade show exhibit design can create more space for attendees if you consider limiting the amount of product you display or by sending fewer staff to the show.
If a conference room or meeting area is a necessity, be sure to keep social distancing and proper hygiene protocols in mind. In addition to allocating more space for the conference room itself, we recommend:
Place fewer chairs within the room
Omit the ceiling to increase airflow
Avoid the use of couches or loveseats; use individual club chairs or ottomans instead
Use larger diameter tables and consider acrylic dividers
Consider using an air scrubbing or purification system
Build in time between meetings to properly clean the meeting room, chairs, or tables
Alternately, if you can, move meetings offsite or outside. This will conserve booth space for other uses and open up more options for meeting room size and amenities.
If your trade show plans include product demonstrations, consider creating back-to-back demo stations. This configuration will serve as a natural barrier between attendees and optimize your space. You might also want to use acrylic dividers to separate staff and attendees, provide styluses, or use UV-C lights for keyboard and mouse interfaces to increase safety. For theater areas, use appropriately spaced chairs or flooring inlays/decals to guide attendees toward the observation of social distancing.
---
Traffic Flow
We recommend creating clear pathways through your exhibit space, creating a one-way journey if possible. Here are two examples of how a one-way journey can be accomplished: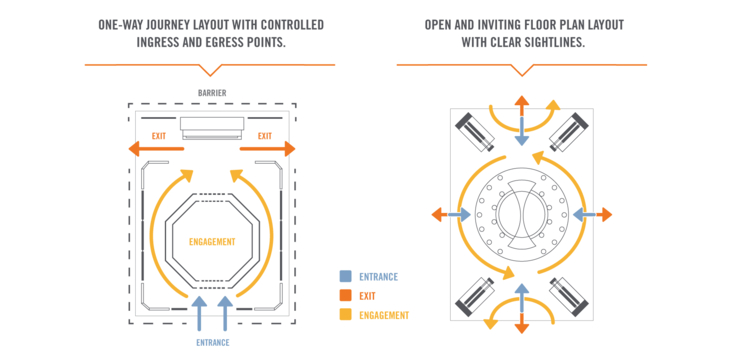 Although these floor plans might veer from your typical booth configuration, arranging your properties in this general way can help provide increased comfort to attendees to walk through your entire space, rather than staying in one area or remaining on the perimeter.
---
Shipments to/from Show Site
A final item to consider is how long it will take for your exhibit to get to and from show site. It will be critical to factor in the general increase in shipping activity. COVID increased the volume of online shopping, which impacted delivery times from providers like UPS and FedEx. In addition, labor shortages with drivers is having an impact on the timing of deliveries. If you can, we recommend shipping to the advance warehouse when possible and limiting separate and/or last-minute shipments to the show floor.
---
Your 2021 – 2022 trade show season is likely to be similar to past shows but very different at the same time. Be sure to plan well in advance of the show and stay abreast of the association's and the venue's requirements. COVID is asking us "planners" to take a more fluid approach to trade show planning; if you have questions about a particular show, please contact us. We will share updated information as it becomes available and we are always here to help.
---