Lessons from CES 2020 – What to Know Before You go to Any Show.
CES, the Consumer Technology Show, launched us into a new year of trade shows. We went, we saw, and we're sharing some key takeaways to focus on when bringing your face-to-face marketing program to the trade show floor in 2020.
---
FOCUS ON THE CLARITY AND QUALITY OF YOUR BRAND EXPERIENCE
Don't put all your eggs in the "location, location, location" basket. Overspending on your hall position to be on a hot aisle or near one of the big names without having the additional resources to properly outfit your exhibit is not an efficient way to spend your marketing budget. In the sea of flash, it's easy to miss some awesome technology when it's showcased in a comparatively humble appearance (by CES standards). Your trade show booth is an expression of your brand story. Make sure the brand experience you're creating is appropriate.
---
DON'T GET TRAPPED IN THE "ARMS RACE" TO HAVE THE BRIGHTEST, LOUDEST, AND MOST VIRAL EXHIBIT ON THE SHOW FLOOR
Every year, CES tests the hypothesis that Bright and Loud = Memorable. Derse understands the draw of flashiness in your trade show display—when appropriate, we encourage the use of purposeful technology as an effective tool in face-to-face marketing. However, a solid face-to-face marketing strategy will ensure that your exhibit doesn't shout at attendees from a distance only to fall silent once the attendees enter your space.
---
STAY AUTHENTICALLY TRUE TO YOUR OWN COMPANY CULTURE AND REMEMBER THE HUMAN ELEMENTS
The importance of warm and engaging staff can't be overstressed. Don't isolate visitors in your booth by relying solely on technology to do all the talking. In a show like CES with so many technological wonders, the old world craftsmanship of face-to-face human interaction stands out like raindrops in the desert, and leaves your attendees thirsty for more.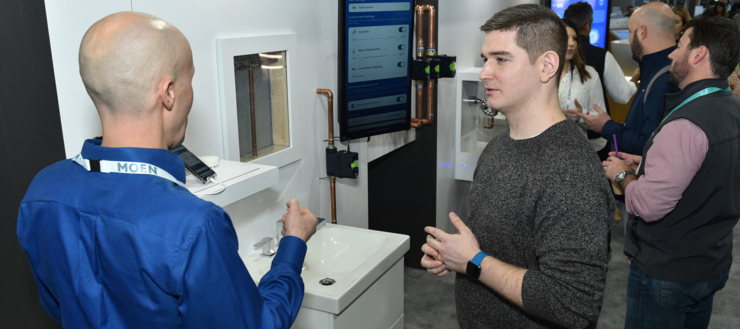 CES is a cool place to be. Attendees come in droves, the internet buzzes with excitement, and the show has branched out so far that almost anyone can find their niche. But before you jump on the bandwagon (or if you're thinking of hitching a ride), don't forget to take a hard look at the numbers and evaluate your potential ROI for attending CES or any show for that matter.
We believe every show you attend should be purposeful and part of your holistic face-to-face marketing plan, complimenting your long-term goals and budget. Whether you already have a plan for the 2020 trade show season, or you're just getting started, we believe every show you attend should be purposeful and part of your holistic face-to-face marketing plan. Need help getting started – we can help.
---