Survey Says: The biggest challenges facing trade show and event professionals right now are…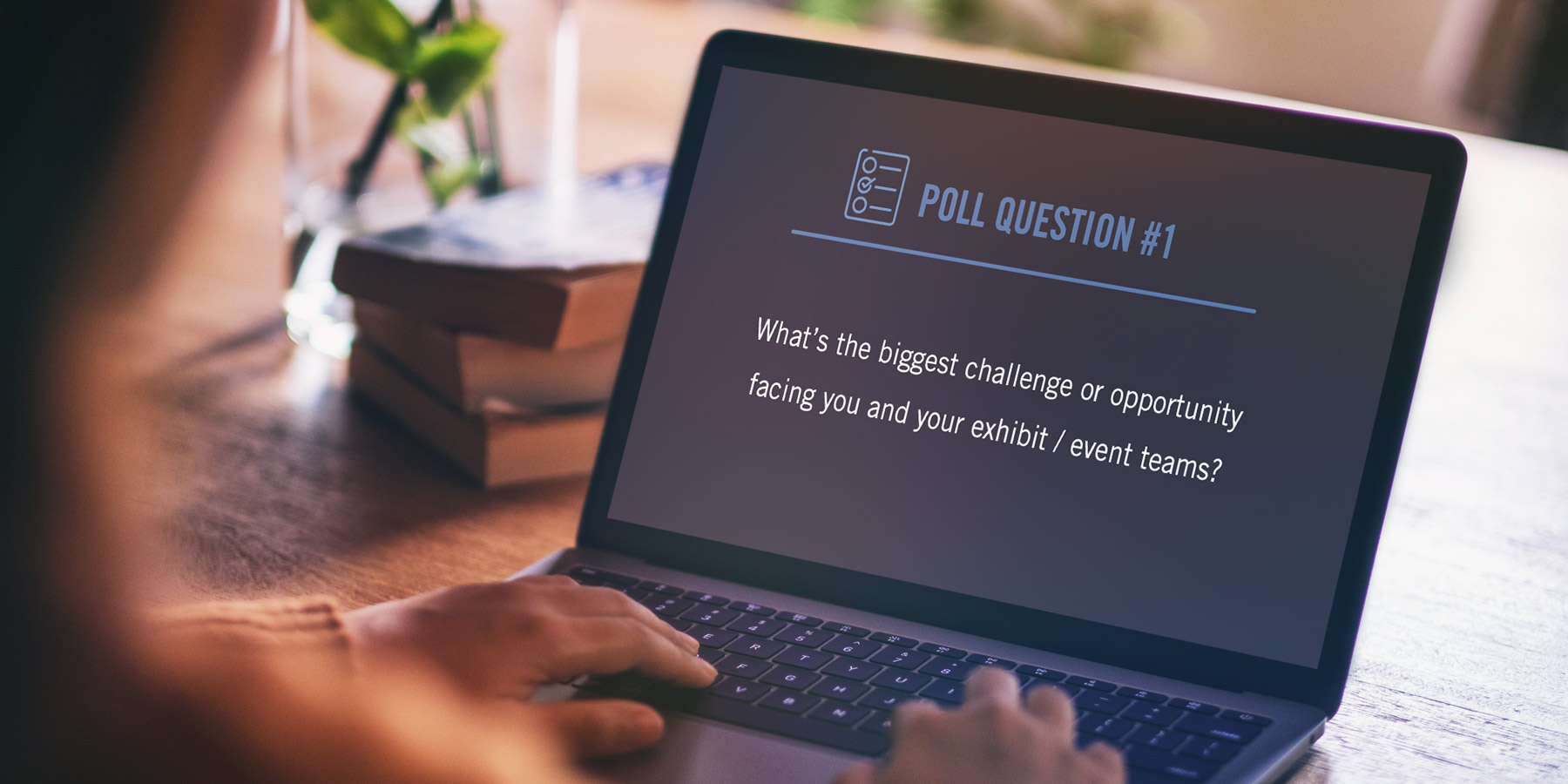 During our recent webinar, The Future Of Engagement, we surveyed hundreds of participants to understand how trade show and event teams are responding to the transformation of face-to-face marketing due to the COVID-19 global pandemic.
Here's what we found: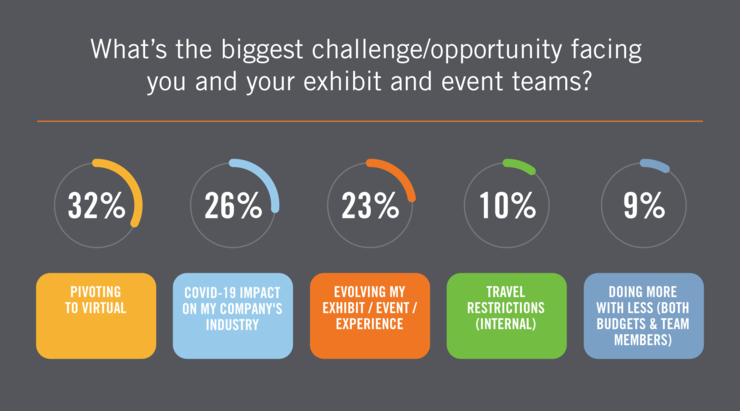 These results make sense. The job of a trade show and event professional is to plan meaningful events. And until now, most of these events were live, face-to-face opportunities to connect their company with prospective target audiences. Of course, technology was often part of the live event, but the event itself was an offline, in-person marketing experience intended to build and grow relationships. It is completely understandable that 32% of respondents were both challenged and excited about the opportunity to pivot from in-person to virtual events.
Additionally, survey respondents are challenged with rethinking how face-to-face events will evolve in the future. In another survey during our webinar, 67% of respondents stated that when live events return, they will need to evolve their product or service demonstrations and 41% anticipate a need to evolve their digital content experiences. Meanwhile, as states begin to slowly reopen in phases, a hybrid engagement strategy will be needed to 1) attract attendees, 2) provide a feeling of safety and comfort, and 3) achieve strategic business goals.
So what's a trade show and event professional to do?
We recommend considering a multi-phased approach that works with the ever-changing landscape of live events in 2020:
1. Captivate at-home audiences today (with virtual experiences)
2. Plan for a scaled, strategic, and safe return to face to face
3. Model a hybrid engagement strategy for weeks, months, and years to come
This hybrid engagement strategy is what we call The Infinity Loop. It's essentially a customer journey bridging people-focused online experiences and a safe return to face-to-face events.
The Infinity Loop is a way to think about incorporating both virtual and live components into your event marketing strategy. Using a hybrid approach that includes virtual connections, smaller or traveling exhibits, and traditional large-scale events will increase opportunities to make connections now and in the future. Plus, infinity-loop thinking will allow businesses to respond to unexpected challenges – whether it's a future pandemic, a change in consumer behavior, or something else. As you consider your historical trade show schedule and plan for the future, take a look at the data and reopening plan for the state where your shows are typically held to help you understand what experiences are possible and when. If virtual is your only option, consider a livestream event. These can be quite sophisticated, like our recent virtual event, Stay in the Loop, or a simple webinar.
Or, in areas where small gatherings are allowed, consider a hub-and-spoke approach, in which a central experience is shared at multiple satellite locations.
While we all look forward to the day when in-person events and trade shows will once again be back on our marketing schedule, technology and infinity-loop thinking can help us create a flexible strategy with a variety of options to connect with customers in the months and years to come. We believe there is no substitute for face-to-face engagement, but proactive thinking and virtual technology options can help build and sustain customer connections while keeping us all healthy and safe.