75 Experiences That Mattered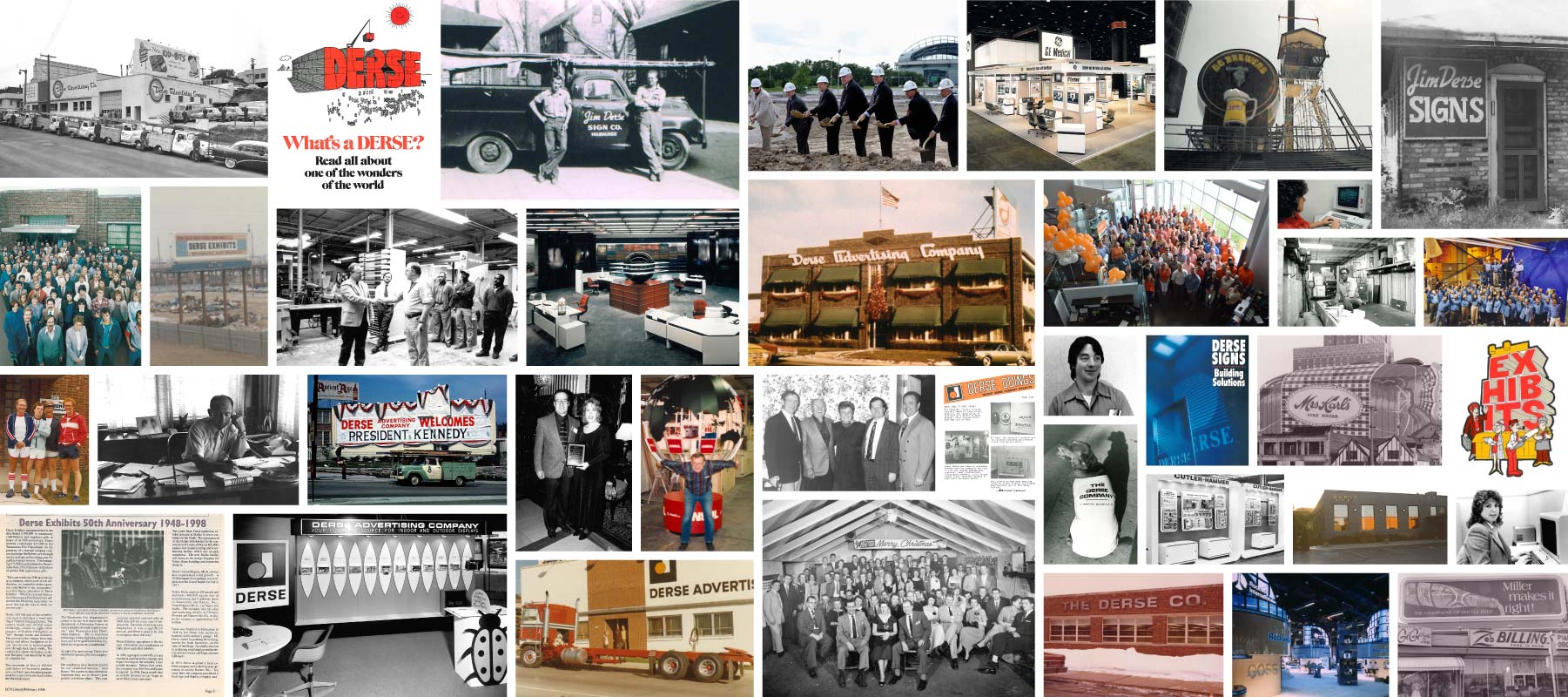 We pride ourselves in telling our clients' stories as engagingly as possible. As we celebrate our 75th year, that's something we've been holding dear – our stories. As we've shared our stories and recalled memories from decades prior, we consolidated them into a timeline.
The Derse story began in a garage, and today our work spans the globe. Let's take a stroll down memory lane and reminisce about 75 experiences that mattered.
1948: The Jim Derse Sign Company opens in his mom's two-car garage on 1751 N 49th Street in Milwaukee, Wisconsin

1950: Derse moves from the two-car garage, to a small office with garage space on N 16th Street to accommodate for the growing size and scale of projects

1952: The Jim Derse Sign Company moves into outdoor advertising

1953: Derse starts the exhibit division with the building of an exhibit for Wisconsin Gas

1953: The company expands to a new 10,000 sq. ft. building constructed on 27th and St. Paul

1955: The company begins to sell rotating signs in Milwaukee, quickly selling 62 rotating signs in the area

1956: Derse paints the prominent Miller wall for the first time in the Miller Valley of Milwaukee

1960: Cutler Hammer (now part of Eaton Corporation), our longest tenured client, becomes a Derse client

1963: The company expands their office space with the purchase of the two-story building next to the 27th and St. Paul location
1966: First Derse Old Timers (DOTs) celebration for Derse employees of more than 10 years

1966: Opening of the Derse Old Timers credit union, which was available to DOTs and their families

1966: Derse paints the biggest billboard in the city of Milwaukee (8,400 sq. ft.), The Bread Board, for Mrs. Karl's Bakery which used over 60 gallons of paint

1966: Derse creates a new product, ADA/PAC, a cost-effective, light-weight 4' x 8' exhibit that can be set up by one staff member

1967: Derse completes the Citgo sign in Milwaukee (one of the three Citgo signs in the United States)

1967: McCormick Place, the largest convention center in North America at the time, burned down overnight
16. 1968: Derse's first $1 million sales year
1971: Derse forms the Display Originators Division which used the silk screen process to develop displays for point of purchase advertising

1973: Derse designs and manufactures our first ten-foot self-packing exhibit product

1973: To extend services into southeastern Wisconsin, Derse acquires Graves Sign & Display in Racine, Wisconsin

1973: Derse builds the Milwaukee Brewers' beer barrel, chalet, and 24-foot stein for their mascot, Bernie Brewer, at County Stadium

1977: Milwaukee operations consolidate into a 70,000 sq. ft. building at 62nd and State Street

1978: Derse sells a $15,000 exhibit to General Kinematics in Barrington, Illinois. The exhibit had a circular conveyor belt with a double-deck over it

1980: Derse acquires the ASI Sign Systems franchise for the state of Wisconsin. We created architectural signage for hospitals and business wayfinding.

1981: Derse completes our first-ever international project, a visitor center, in Saudi Arabia
1982: Derse builds and installs a retail environment for Discover Milwaukee

1983: To meet the needs of a growing client base, Derse opens a full-service facility in Grand Rapids, Michigan

1983: Jim Derse receives the 1983 Silver Medal of the Milwaukee Advertising Club

1983: Derse begins to design and build floats for the annual City of Festivals parade in Milwaukee

1984: Employees at Derse begin using mobile bag phones to be more available to clients while on the road

1986: Milwaukee experiences heavy rainfall, which resulted in flooding in the Derse Milwaukee building

1986: Derse opens the Wisconsin Highway Business Signs (WHBS) division as an outgrowth of Derse's exterior signage capabilities. These are the blue highways signs at off ramps for food, lodging, gas, and attractions.

1989: The Derse Company is sold to a group of senior officers and managers – Bill Haney, Dan Vander Sanden, and Bill McNamara
33. 1989: With the transition of new ownership, the company name changes to Derse, Inc.
1990: Derse's first million dollar exhibit debuts for Rockwell Goss at a printing show

1990: Derse begins to give salespeople Chevy Celebrities to drive clients around

1992: Derse completes a $1 million new build for Miller with a double-deck and a 28-foot tower

1994: A full-service division is established in Las Vegas, Nevada to serve clients based on the West Coast

1995: Derse completes its first marketing environment for Golden Books in New York

1996: To capitalize on market conditions, Derse establishes a full-service division in Dallas, Texas

1997: To expand services in a major trade show city, Derse opens a full-service division in Atlanta, Georgia

1997: An international department is established to support clients exhibiting overseas

1998: To meet growing customer needs, Derse moves its full-service Racine operations to the Chicago suburb of Waukegan
1998: Corporate departments move into a newly renovated building located on the 62nd Street property

1998: Derse event planning business segment begins

1998: For the first time, Derse exhibits at ExhibitorLIVE

1998: Derse plans and executes the grand opening of the Wisconsin Center in downtown Milwaukee

1999: Derse acquires assets from Design South (an Atlanta-based exhibit company) and Cosmos (a system rental operation). As a result, Derse establishes the SRS division which offers rental properties.

2002: Derse's first exhibit that includes experiential marketing (a bus ride experience for a drug treating schizophrenia)

2002: A full-service division opens in Pittsburgh, Pennsylvania to meet the needs of clients based in the northeast U.S.

2002: For the first time, Derse exhibits at the Healthcare Convention & Exhibitors Association (HCEA)

2004: To streamline operations, the Grand Rapids facility is reorganized by merging with Milwaukee and Waukegan
52. 2004: In-house Experiential Marketing and Measurement & Research teams are established
2006: Derse designs and executes a 60' x 70', two-story exhibit for Coca-Cola

2007: Derse opens a sales, design, and warehousing facility in Minneapolis, Minnesota

2008: Derse consolidates its Milwaukee division and Corporate headquarters in a newly built facility in Milwaukee's Menomonee Valley (moved in in 2009, Silver Level LEED-certified)

2008: Derse's first time supporting a client at the Consumer Electronics Show (CES)

2008: Our current president, Eric Preston, begins a career at Derse

2009: Derse's first project with LED tiles

2009: Derse wins a Sizzle award for our exhibit design at ExhibitorLIVE. The exhibit, Pause, was inspired by the Spanish steps in Rome. This exhibit has since been recognized as a winner of the Best of 30 Years in Exhibitor Magazine's 30th Annual Exhibit Design Awards.

2011: For the first time, Derse attends the Association of Briefing Program Managers (ABPM) conference

2011: Derse donates the land of the 420 million year old Schoonmaker Reef to the city of Wauwatosa, Wisconsin for preservation

2013: Our current CEO, Brett Haney, begins a career at Derse

2013: The Las Vegas division moves to a larger location to accommodate for our growing list of clients
2015: Derse's Marketing Environments business segment officially launches

2017: Bill Haney, Chairman and former CEO, wins EDPA's prestigious Hazel Hayes Award

2019: Derse Marketing Environments completes Carrier's award-winning Center for Intelligent Buildings in Palm Beach Gardens, Florida

2019: Brett Haney becomes Derse's chief executive officer

2020: Eric Preston becomes Derse's president

2020: As COVID-19 swept the nation, Derse builds temporary hospital rooms within the Exposition Center at Wisconsin State Fair Park and at the Great Lakes Naval Center

2021: Derse acquires Nichols Exhibits in Northbrook, Illinois and begins operations from the Northbrook office

2022: Derse acquires assets from Exhibitpro, an exhibit company out of Ohio

2022: Derse surpasses pre-pandemic staffing levels and reaches an all-time high sales year

2022: More than thirty years after first executing GE Medical's exhibit at RSNA, Derse executes the GE HealthCare exhibit at RSNA 2022

2023: Derse executes the John Deere & Wirtgen exhibit at CONEXPO, our largest ever exhibit at CONEXPO

2023: Derse celebrates 75 years of experiences that matter
The past 75 years have all been possible because of our clients, partners, and employees.
We can't wait to see where the next 75 years take us.