Engage your customers with experiential marketing
At Derse, we believe experiences matter, which is why we constantly strive to achieve the most positive possible outcome in every single interaction, regardless of who we're interacting with. The same holds true when we talk about experiential marketing, which describes business strategies that engage current or potential customers, allowing them to become more deeply involved in a brand or product experience.
The best experiential marketing campaigns take advantage of every customer interaction by thoughtfully providing opportunities to enhance understanding. Whether intentional about it or not, every company offers a brand experience. When done well, experiential marketing can take your company's brand experience to the next level, helping you create opportunities for memorable impact (and trade show marketing ROI).
Experiential marketing is important for both B2B and B2C companies. Research shows that B2B buyer journeys are becoming more consumer-like, and B2C journeys are becoming more data driven and systematic. This same study reports that B2B buyers are more emotional and anonymous than in the past. When your brand creates a face-to-face experience, at a trade show or customer event for example, you can more easily address your buyers' emotional needs, such as a desire to choose a reputation-enhancing solution, by helping them truly understand what it will be like to work with you when you become the selected partner.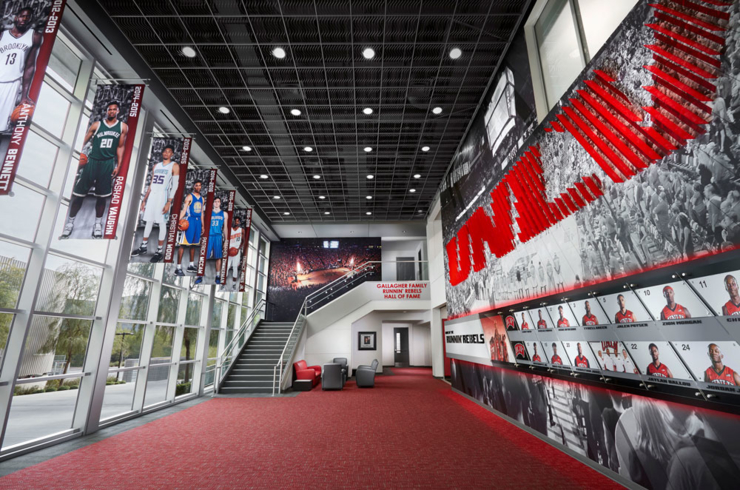 UNLV's Basketball Practice Facility
Sprint's Executive Briefing Center
Although most people think of experiential events such as trade shows when they hear the term experiential marketing, environments such as UNLV's basketball practice facility or Sprint's Executive Briefing Center show how any space can be successfully used as an opportunity to create an emotional connection with potential customers, vendors, donors, or supporters. These spaces embody the very essence of a marketing experience – going beyond a tagline, slogan, or logo and truly inviting the guests into the brand.
And, we know emotionally connected customers are 52 percent more valuable, on average, than those who are just highly satisfied. Whether you're providing well-trained customer service staff in your retail store, hosting an experiential event for your most important clients, or highlighting your abilities at a trade show, similar to our interactive experience at EXHIBITORLIVE 2019, experiential marketing enhances your ability to not only tell your brand story but invite your target audience into it.
Ready to start inviting customers into your brand story? We can help.